"The science is irrefutable," were the words of an XRPDX  member last Friday (Sept 9), in a conversation with Senator Wyden's staffer during our action outside his NE Portland office. (Several requests for an in-office letter delivery were denied, and the office building was locked when we arrived, chanting, "Hey, Ron – do your job!") This conversation was part of a rally with over 20 attendees from various climate justice organizations, all calling on Senator Wyden to strongly oppose Manchin and Schumer's dirty side deal to the Inflation Reduction Act.

This dirty side deal includes plans to fast-track Manchin's investment, the destructive Mountain Valley Pipeline in Appalachia, and to nationally limit opportunities for grassroots input and legal challenges. To top it off, the side deal would break treaties with Indigenous tribes, the fruit of an imperialist legacy we must confront and destroy.

Portlanders, like many across the globe, are finding there has been no better time to advocate for climate justice. Less than twenty-four hours after our actions outside of Wyden's office, wildfires spread plumes of smoke across the state, particularly impacting the unhoused in Portland, as well as folks in working class and low income communities. Manchin's deal, if passed into law as an amendment to the Continuing Resolution to fund the federal government through 2022, will only exacerbate the issues felt by our local communities. We need action, not corruption. 

Activists outside of Senator Wyden's office on Sept 9, and Senator Merkley's office on Sept 11, congregated for street theater, chants, and speeches. Not a single rebel hesitated in calling Merkley and Wyden's offices with our demands:

We DEMAND that our Congresspeople stand with climate justice activists and tell Majority leader Chuck Schumer NOT to add the Manchin side deal as an amendment to ANY bill.

We DEMAND that our Congresspeople vote NO on the side deal if it is brought to the floor in ANY form.

We DEMAND that our Congresspeople use their power to ask for a roll call vote if the side deal is brought to a vote as an amendment so that all votes are on the record.

Manchin's side deal is a corrupt and egregious act against the rights to environmental protection of the American people. Despite our actions at both Wyden and Merkley's offices resulting in a visit from a local staffer representing their respective offices, and our many phone calls to both DC and Portland offices, our Senators have thus far refused to publicly pledge to vote NO on this side deal.

On both dates, XR members teamed up with other local activists to educate our community through empowering conversations and motivating our neighbors to stand up. On Tuesday, Sept 13, a special musical performance by Lewis & Clark Professor Bruce Podobnik with XRPDX orchestrated a powerful moment for us in front of Merkley's office, for a planet worth saving (photo below – credit: Susan Evans). Still, we're left wondering, will Wyden and Merkley back the people? Or will they abet Manchin and Schumer's push for climate destruction?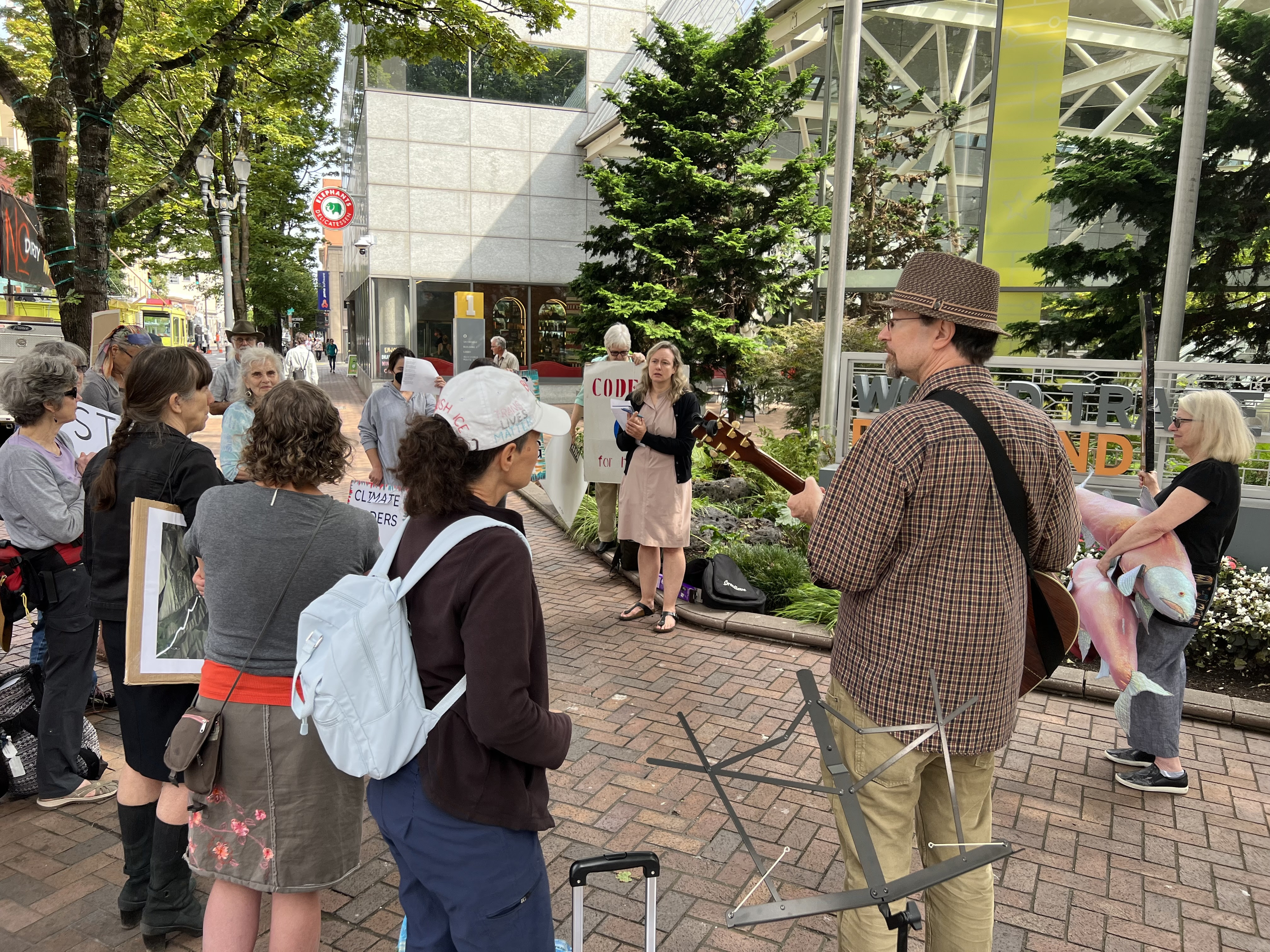 But our words will not be censored. Our voices will not be silenced. Keep calling: 202-224-3121, the Congressional Switchboard number works for your Congress Rep (Blumenauer or Bonamici) and for both Senators. Note: Senator Merkley serves on the Senate's Environment and Public Works Committee, where the API draft of this legislation is being worked on, according to a phone visit with a staffer in his DC office. Merkley also chairs the Subcommittee on Chemical Safety, Waste Management, #EnvironmentalJustice, & Regulatory Oversight. He should have been the first Senator to publicly oppose #Manchin's dirty deal, with self-identified "Climate Champion" Ron Wyden solidly behind him.